Cast iron Dutch ovens are used and maintained in the same way as other cast iron cookware. There are several ways to clean a Dutch oven. Whether it's an antique cast iron Dutch oven with
legs or a brand new unseasoned one, the cleaning process is very much similar.
The proper way to clean cast iron is always to avoid water, scouring pads, and harsh detergents. Water if left unwiped, the moisture that's stuck to the pan will cause rust. Scouring pads and
detergents will ruin your seasoning.
You should also use a cast iron oven cleaner only when there is rust in your Dutch oven. Due to the chemicals being harmful, necessary precautions must be taken. If you are using a normal
Dutch oven.
Then follow the steps below to learn how to clean a cast iron Dutch oven.
If the cast iron Dutch oven is used regularly and not too dirty then pouring a little oil inside and wiping with a clean cloth will do the trick. When you use the stove again, heat it properly. 212 degree Fahrenheit or 100-degree Celsius heat sterilizes cast iron.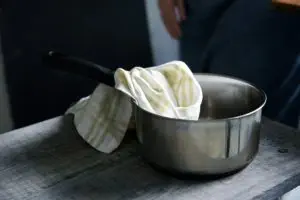 If there's a little grimy and sticky food particle left, then you can use a damp towel to rub the inner surface of your oven mildly. Make sure that the towel is damp, but not wet; because excessive water can strip the seasoning from your oven.
If you haven't used the skillet that recent and it had cooking oil leftover then you need to clean it because the leftover oil would smell disgusting mildly. Cleaning the Dutch oven with a sponge
soaked in mild soap will make it clean for the next use. Make sure to rinse thoroughly
If there's burnt food particles stuck on the inner surface, then you can easily clean them by pouring water in your oven and let it boil for a few minutes. The boiling water would make the
food residue come off. Then you can use a mesh dish scrubber to scrape off remaining crud
Another trick is that you can spread a good amount of salt over it, then heat it. Make sure you're using oven mitts. Then you can clean your cast iron oven by scrubbing the surface with cloth or
paper towel repeatedly and rinsing with soapy water.
You can also use cooking oil to make the burnt food particle come off. If none of these methods work, then you can use a plastic scraper or a steel mesh to scrape off the crud. If there is rust in
your Dutch oven then you can use sandpaper or steel mesh to scrub it off.
If your Dutch oven rust is not too much, then you can wash it with lukewarm water, wipe it clean and dry and then coat it with some cooking oil. But if the rust in Dutch ovens has spread too
much or if it keeps coming back then you should season your cast iron Dutch ovens again.
If you are an avid fan of antique cast iron Dutch oven, then you have to work a little harder to get your antique cast iron Dutch oven ready for use. While the old cast iron Dutch ovens are the
classic go-to food preparing utensils, they also have aesthetic value.
There are many brands of old cast iron Dutch ovens, such as Griswold, Lodge, Wapak, and Wagner. Among them vintage Griswold cast Dutch iron ovens have stood the test of time, and
they are very finely made, making them visibly very pleasant.
If you want to clean Dutch oven like these, then you have to follow a few steps to ensure they are properly restored. You must wear rubber gloves and goggles to protect your eyes and skin from
cast iron oven cleaner. First, you have to spray the cast iron skillet cleaner on the oven.
Then you need to seal the pan in a plastic bag; your cast iron oven cleaner would most probably clean it enough that you can season it right away when you take it out of the plastic bag and rinse
it after one or two days. But if that's not the case, then follow the next steps.
After taking it out of the plastic bag, use a wire brush to scrub your old cast iron Dutch oven properly. Don't hesitate to clean the Dutch oven thoroughly because you won't hurt the cast iron.
If dirt still doesn't come off then use your cast iron skillet cleaner again on stubborn spots.
Cleaning a rusty cast iron Dutch oven is however a different method. You can clean the Dutch oven in two ways. Either use a wire wheel brush on an electric drill to get the rust off, or you can
use a one part vinegar one part water solution to soak it in for not more than a few hours.
While you clean a cast iron Dutch oven from rust, you should never leave it in a vinegar solution overnight because the acid eats away the iron. Cleaning the Dutch oven with vinegar should
always be done in moderation.
After cleaning a Dutch oven, you should season it. You can season it with vegetable oil or lard or shortening
For manual seasoning warm your oven for a few minutes and apply a little bit of the oils mentioned above. Then put it in a 225-degree oven and keep it there for half an hour. After that wipe all the excess oil and put it back in the oven repeating the process.
After you cook, food particles that are stuck in the pan should be taken off by a spoon. You shouldn't use a scouring pad for cleaning the Dutch oven because it will cut through the seasoning. You should also avoid detergent to clean Dutch oven.